Sewage clearing devices type ZA 7500 (Or Rother capacity) are being produced by POMOT company on new and used trucks with suitable DMC value.

Container:
Container angled 5 degrees backwards, hatch and cladding made from 5mm thick carbon steel or special 3mm thick OPTIM steel, which makes the container more resistant than those produced the traditional way. The container is secured against corrosion, on the outside with varnish layer of any colour from RAL palette, on the inside with triple epoxy layer or against order may be hot-dip galvanized. The container is double wedged on the inside and outside. Strengthened pillars under the intermediate frame. Cross piers inside the container. Strengthening ribs on the outside – connecting the cladding. Rear sighting holes in form of rear hatch of physical characteristics stated by the client or a opened hatch, perspex pipe level indicator diameter 90mm. |Intermediate frame made from closed profile together with the container painted or galvanized.

Compressor:
Efficiency from 4000 to 13000 l/min, adjusted to the containers capacity
Filling time up to 5 min.
Pressure 0,5 bar.
Suction depth 6m.
Compressor powered by hydraulic motor.
Inundation security by double-ball valve on the top of the container and an air trap with a sight hole and a drain gate valve, flop valve controlled pneumatically.
Manuwakuometr – indicating current pressure or negative pressure indie the container.
Two safety valves, overpressure 0,5 bar and negative pressure 0,7 bat.
Oil trap – silencer- wet air filter
Fixture 4" (100mm) or 6" (150mm)
Rear hatch controlled mechanically or hydraulically.
Side hatch in the rear hatch controlled mechanically.
Suction hose 6m long.
Channel made from stainless steel – protects the truck against dirt.
Fire or ball connections.
Suction hose 6m long or 2 3m sections.
.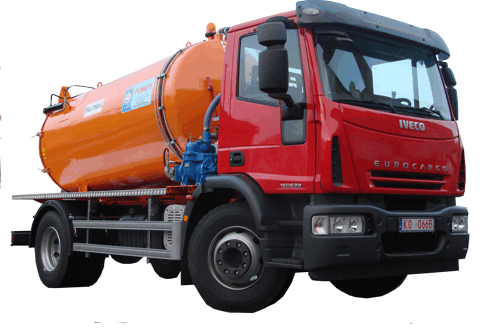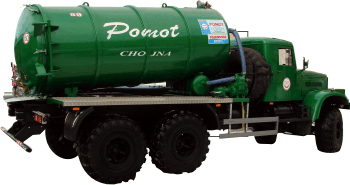 Downloads
Information flyer

Gallery