The slurry tanker with the mixer to fertilizers
Type T546
Capacity 10000 literson the suspension
type TANDEM or two sprung axles
Technical and operational data:
Lenght

6785 mm

Width

2435 mm

Height

2660 mm

Tyres

500/60x22,5

550/60x22,5

Axles

2

Wheel track

1900 mm

Emphasis on the hook

16 kN

Capacity

10000 liters

Kerb weight

3200 kg

Total weight

13200 kg 

Tractor power of

63 kW
The slurry tank with mixer to fertilizers is applied in transportation, mixing, feeding the sprayers for liquid fertilizers and pesticides. Black tanker inside allow to mix liquid fertilizer without fear of clogging the sprayer nozzles.
The vehicle has special pump with multiplier driven from tractor PTO CAM 73,842 capacity 550-1650 l / min.

Mixing takes place in a closed circuit during transport when the pump is running.

The car has:
braking system,
12V electrical installations,
lift with adjustable height of the drawbar.
The vehicle is designed for aggregating the tractor on the hook-type copupling or "hitch".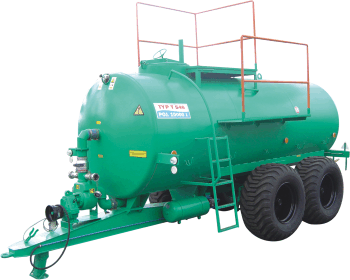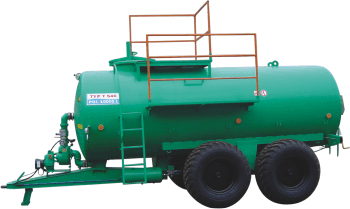 Gallery