Transportable water trough for animals
Type T507 / 4
Capacity 4000 liters - axial
Technical and operational data:
Lenght

4800 mm

Widht

1850 mm

Height

2100 mm

Tires

11,5/80x15,3

400/60x15,5

Axles

1

Wheel track

1500 mm

Emphasis on the look

12 kN

Capacity

4000 liters

Empty weight

1050 kg

Total weight

5500 kg

Tractor with

33 kW

Number of drinkers

3
Transportable animal drinker is equipped with 3 pieces of animal feeders.
Bowls have a self-regulated level of filling, thannks that the drinker may be left unattended in a pasture.
Emptying is done automatically.
The vehicle has:
- brake system
- 12V electrical system
- the lift with adjustable height of the drawbar
The vehicle is prepared for connecting the tractor to the lower clevis - type coupling, or "hitch".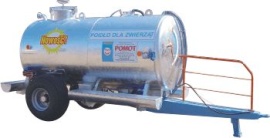 Downloads
Information flyer
- PDF

Gallery